After almost two years we are finally enthusiast to present to you the AXIOM Board, Serial Number: 000000000001.
It is the initial result of a thorough research funded by the European Commission and involving 7 different entities across Europe, i.e. 3 research groups / Universities – University of Siena, Barcelona Supercomputing Center and Forth – as well as 4 enterprises – SECO, Vimar, Evidence and Herta Security.
This is the first revision of the AXIOM Board, but we truly think we're onto something.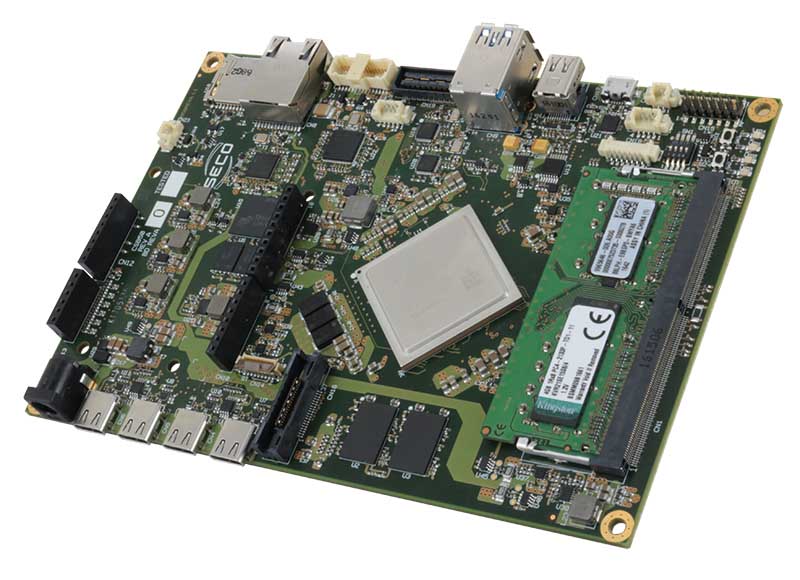 AXIOM is the first board that combines three worlds in one: Arduino, ARM computing and FPGA.
The board in fact presents the same pinout of Arduino Uno, so to let you attach an Arduino Uno-compatible shield to the board. Also, the presence of Arduino UNO pinout enables fast prototyping and exposes the FPGA i/o with a user friendly interface.The ARM computer on board consists in a 6-core heterogeneous processor – a 64-bit Quad core A53 @ 1.2GHz and a 32-bit Dual core R5 @ 500MHz. The FPGA processor is a new-generation Zynq Ultrascale Plus. The combination of a powerful heterogeneous 6-core ARM processor with a flexible and fast connection unleashes the true potential of FPGA.
For what concerns the RAM, the board features as Processing System a swappable SO-DIMM that goes up to 32GB, and also a soldered 1 GB Programmable Logic.
Speaking of storage option, the board has 8 GB of eMMC and a micro SD card reader. However, the board could support up to 32 GB of eMMC.
In terms of components we have selected the best of the best. We've made the board to allow the maximum hardware acceleration in real-time in a small form factor with energy-efficiency in mind.
The AXIOM Board is in other words designed to be the perfect combination of High-Performance Computing, Embedded Computing and Cyber-Physical Systems. It is meant to be an ideal platform for real-time data analysis of a huge amount of data in a short time frame, machine learning, neural networks, server farms, bitcoin miners – you name it.
The AXIOM Link
The "AXIOM-link" is one of the most relevant features in the AXIOM architecture, since it provides a fast, low latency, inexpensive and easy to operate way to interconnect multiple AXIOM Boards to arrange small clusters.
Thanks to the USB Type C connector, it's possible to get all these advantages.
Speaking of ports, there are 4 USB Type C ports onboard, and also 2 USB Type A – not to mention the miniDP connector. A single channel 24 bit LVDS I/F, suitable to interface an LCD with touch panel, should be provided as an option.
Speaking of the connectivity, the board features an RJ-45 ethernet connector with a Gigabit ethernet transceiver.
Specs
Wide boot capabalities: eMMC, Micro SD, JTAG;
Heterogeneus 64-bit ARM FPGA Processor: Xilinx Zynq Ultrascale+ ZU9EG;

64-bit Quad core A53 @ 1.2GHz;
32-bit Dual core R5 @ 500MHz;
DDR4 @ 2400MT/s;
Mali-400 GPU @ 600MHz;
600K System Logic Cells;
32 GB of swappable SO-DIMM RAM  (up to 32GB) for the Processing System, plus a soldered 1 GB Programmable Logic.

Expandibility: DDR4 SODIMM Slot
12 GTH transceivers @ 12.5 Gbps (8 on USB Type C connectors + 4 on HS connector)
Easy rapid prototyping, because of the Arduino UNO Pinout.
AXIOM Board at Embedded World 2017
The AXIOM Board will be presented for the first time to the general public in occasion of the Embedded World 2017 at SECO UDOO Booth, at SECO booth and at EVIDENCE booth.